Caracteristics
Accommodation types :

Capacity :
Location :

in the mountains
Thur valley

General description :

EQUIPMENT :

EQUIPMENT/LEISURE :

BALCONY/TERRACE :

CHILD EQUIPMENT :

Baby cot
Highchair
Baby change mat
Bottle heater

PARKING/GARAGE :

ANIMALS :

Languages spoken :

Tourism and Disability :

Accessibility for the Disabled

Towels and sheets :

Beds are made on arrival
Sheets provided
towles provided
Presentation
Auberge du Gustiberg
GPS coordinates
Latitude : 47.89331
Longitude : 6.92850
A breathtaking panorama
L'Auberge du Gustiberg is situated on a height of 980m and offers a great view of the Thur valley and the Bussang mountain pass, the natural border between Alsace and Lorraine. It is also a good spot for paragliding.

An institution
For over 40years visitors came to the Gustiberg to savour the cooking of Françoise Ortelli. Today, Christelle and Stéphane, the new innkeepers carry on this tradition.

Service and Saveur
The inn was enlarged in 2013. Visitors can spend their night in the heart of the Vosges Mountains after admiring a fantastic sunset. Christelle welcomes you with a smile and Stéphane won't wait to offer you a piece of blueberry tarte or home made "charcuterie" (cooked porc-meat) from his farm.

Localisation
Take RN66. In Urbès, car park in front of the city hall/school or nearby church. Catch up with the Rue du Brisgau (on foot) and follow the signs (yellow triangle then red disk) until Auberge du Gustiberg.
My favorits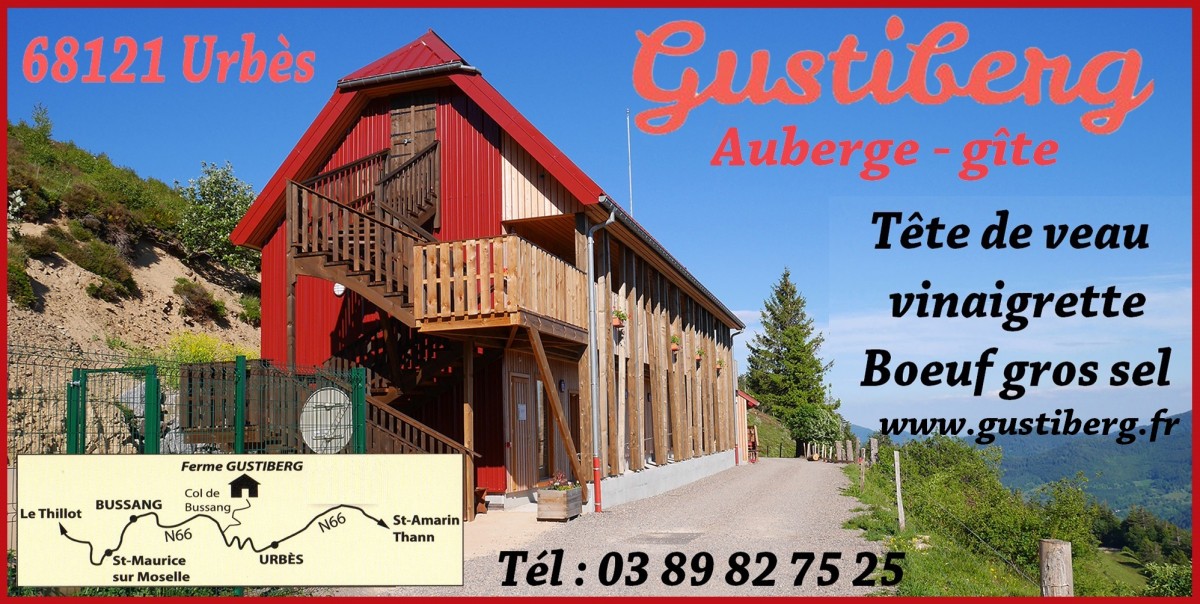 Beef rock salt and calf head on vinaigrette
Contact details of the owner
Pasture of Drumont ( Chaume du Drumont)

GPS coordinates

Latitude : 47.90178

Longitude : 6.92233

The Drumont is the highest peak of the Vosges massif (1200 m) and offers a wide panorama of the Alsace and Lorraine. From its viewpoint you have a beautiful view of the Ballon d'Alsace, the Ross Mountain, the Grand Ballon and you may even see the Bernese Alps. The meadow areas are popular wit...

GPS coordinates

Latitude : 47.87700

Longitude : 6.95711

Storckensohn is a typical mountain village and preserved the "savoir faire" of manifacturing nuts oil. The mill was built in 1732 and works with water energy. Visitors can admire the manifacturing of juice and oil. Gourmands be ready: The visitors store enchants with tradtional and a...

GPS coordinates

Latitude : 47.88957

Longitude : 6.97009

This lake, nearby Urbès is an ancient bog, emerged from the melting glaciers and not far from the Bussang mountain pass. The water stagnates and organic substances accumulate to form a remarkable ecosystem: the peat-bogs.